EDITOR'S NOTE
_________________
HOMA HEALING
_________________
HOMA FARMING
_________________
ECO NEWS
__________________
EVENTS
__________________
HOMA HEALTH WITH PHARMACIST MONICA KOCH
_________________
MESSAGES FROM SHREE VASANT
_________________
FROM ORION TRANSMISSIONS
_________________



WHAT IS HAPPENING?
By simply listening, watching or just opening your eyes half-way, you can realize that we are experiencing serious challenges, one after another, such as: tsunamis, earthquakes, radioactivity, heat waves, cold waves, volcanic eruptions, floods, droughts, economic crisis, domestic violence, family breakdown, crime, wars, robberies, kidnappings, problems with food production, consumption of foods and medicines that kill slowly, predatory behavior towards the environment, etc.
However, at the same time, new and ancient ways to transcend problems are emerging like never before.
Now there are more people:
1- Opening their eyes and waking up to the sound of the alarm that Nature triggers.
2- Self-reflecting and looking to eliminate their inner crocodiles or mental impurities (ego, greed, lust, envy, anger, gluttony, etc).
3- Looking back and deciding to forgive, to be free of resentment and to be able to express their true nature - "To Be Love"
4- Meditating and looking for the Immutable Divine Light and the Unstruck Sound Within
5- Helping and serving others selflessly
6- Acknowledging their fears and confronting them because they want to be free and cut off the chains of addiction
7- Realizing a Love that goes beyond gifts, praise and sex
8- Questioning and challenging the behavior of some leaders in a decadent society
9- Wanting to start improving the external world by improving their inner world. Positives thou ghts and emotions bring out positive words, actions and results.
10- Changing their eating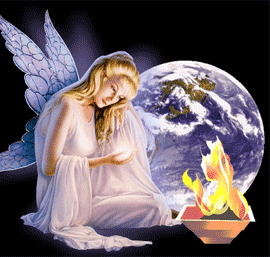 Angelic work !
habits to consume more natural wholesome vegetarian products (not synthetic) to reduce the toxicity in their bodies and support nature
11- Realizing the absurdity of keeping patterns of behavior which have being programmed by certain (hidden or disguised) groups whose main interest is to control, manipulate and keep people in the darkness and make them slaves and robots
12- Acknowledging that many programs on TV, radio, newspapers do not necessarily reflect the reality
13- Cutting some toxic entertainments
14- Gradually taking off the veils that cover their eyes and seeing clearly the path that leads to tranquility and peace
15- Thinking that it is better:
to control themselves than to control others, to serve than to be served, to love than to be loved, to give than to receive, to listen than to talk, to forgive than to be forgiven, to pat than to strike, to apologize than to be proud, to sincerely complement than to insult someone, to tell the truth than to lie, and so on.
And yes, yes, yes, more people (children, teenagers, and adults) are practicing the Fivefold Path (Yagnya, Daan, Tapa, Karma, Swadhyaya). Please click here to watch how school children enjoy these teachings and Yoga.
We begin with the Agnihotra to eliminate pollution at all levels and realize the Unity and the Oneness (we are part of the Whole and the Whole is in every one).
There are also more people recalling that at the end of all struggles, the good always triumphs over the evil, truth overcomes falsehood, light disperses darkness, and love wins over hate and emotional pain. OM OM OM
OM Shree OM