EDITOR'S NOTE
_________________
HOMA HEALING
_________________
HOMA FARMING
_________________
ECO NEWS
__________________
EVENTS
__________________
HOMA HEALTH WITH PHARMACIST MONICA KOCH
_________________
MESSAGES FROM SHREE VASANT
_________________
FROM ORION TRANSMISSIONS
_________________



THE EARTH
Let's think about our environment. Let's think about the Earth. According to many people, the Earth is a more or less spherical object that moves around the sun (Average orbital speed = 107,200 km/h) and rotates around its axis (Equatorial rotation velocity = 1,674.4 km/h). Because of the axial tilt (+/-23.5°), the amount of sunlight reaching any given point on the surface varies over the course of the year. This results in seasonal change in climate, with summer in the northern hemisphere occurring when the North Pole is pointing toward the Sun, and winter taking place when the pole is pointed away. During the summer, the day lasts longer and the Sun climbs higher in the sky. In winter, the climate becomes generally cooler and the days shorter.
The Earth is composed of elements such as: O, N, C, H, Fe, Si, Mg, Ca, Al, K, Na, P, S, Ni, etc., which combines to form other structures in different states (gas, liquid, solid, ethers (?), etc.). These substances make the: atmosphere, oceans, rivers, continents, islands, mountains, volcanoes, plants, animals, human beings, etc.
So the next questions are:
a) is Earth a living organism? Life is an intrinsic part of Earth. Only Life gives Life.
b) Is Earth the origin, support and end of life on this planet?
c) Who gives life to the Earth? d) Are we part of Mother Earth? Our ignorance is responsible for our destructive behavior.
PS. Pollution is altering everything.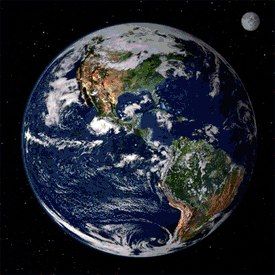 AGNIHOTRA HEALS THE EARTH
Our Realization of ONENESS can awaken in us a constructive behavior.
Many think that Earth is a great planet; few think it is just a large object and others think it is our Mother. Some say "We are the Earth".
e) What do you think?
Agnihotra can help us to become aware of our actions. Agnihotra fights pollution and it can help us to play a synergistic role in the life processes. Let's sing, dance, chant, rap, play, eat, drink (H2O, juices, etc.), work, rest, meditate, love, see, smell, touch, hear, act, start the day, live the day, end the day thinking about these connections.
Earth is Mother. Mother is life. We can celebrate Mother's day once a year. We can celebrate Earth's day once a year. We can also celebrate it every moment with our loving thoughts and actions. Let it be a kind word; let it be a helpful action; let it be MANTRA. Let it be Light and Love. However, if our minds are too busy in other myriads, we still can play a beautiful note or a good role at Agnihotra time(sunrise and sunset). And definitely we can celebrate Life every day with the Agnihotra fire. Let it be AGNIHOTRA.
OM SHREE OM
Let's open the eyes and see what is around.
Let's open the eye and see what is within.
Let's open the heart and feel the world.
Let's open the soul and realize WE ARE ONE.