EDITOR'S NOTE
_________________
HOMA HEALING
_________________
HOMA FARMING
_________________
ECO NEWS
__________________
EVENTS
__________________
HOMA HEALTH WITH PHARMACIST MONICA KOCH
_________________
MESSAGES FROM SHREE VASANT
_________________
FROM ORION TRANSMISSIONS
_________________



THE LAW OF LOVE
Most people are familiar with the word "law" and what it implies. Usually, it is an instruction to be followed for it benefits everyone (?). For example, when you are driving and see a red traffic light or a stop sign, you must stop. If you fail to do so, you might have an accident or get a ticket. If you are crossing a road and there is no traffic light or stop sign, still it might be wise (prudent) to slow down and look to the sides before crossing to avoid accidents. These instructions are to be followed independently of our emotional mood, mental logic or belief system. Of course, there are some "man-made laws", which can be debatable or argued about for they will benefit few. However, "Natural Laws" cannot be defied unless you are ready to face the results. If you jump from a building, the law of gravity operates and you better be prepared for the consequences. Sure, you can jump with a parachute and it can reduce the impact if you know how to use it and consider the height, the wind, etc..
Someone might say that there are physical laws as well as subtle laws. The last ones are not necessarily written down in any "Constitution", but they can be realized, for example, the "Law of Love". It is manifested through our words and deeds of selfless service to others. To follow this law can benefit everyone.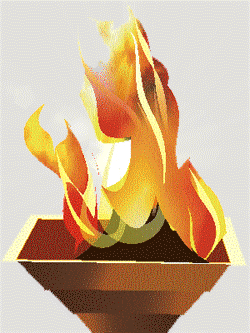 AGNIHOTRA awakens unconditional LOVE from within
If you break it, it can produce much of what we see today: despair, injustice, corruption, violence, crime, chaos, destruction, etc. To follow the Law of Love can bring: peace, joy, prosperity, health, bliss, wisdom, etc. So the question is: do you follow the law of acting and reacting with Unconditional Love under most circumstances in your daily life ?
The Fivefold Path can awaken this "Love Within". Agnihotra maybe the easiest way for many to realize and put into practice this.
OM LOVE
OM AGNIHOTRA
OM SHREE
Let the fountain of Loving Waters in our hearts be ignited by "the Agnihotra fire".
Let our Loving Waters bring life wherever they reach.
Let it be a "Permanent Flow", which nurtures "Nature" throughout all seasons.
Let you and me realize our "Oneness" for this is the "Law of Love".