Pharmacist Monika Koch, Germany
THE BASIS OF LIFE = THE BASIS OF HEALTH
For a day full of peace, happiness and prosperity the basis of health is important so that I can do everything with joy and not be troubled by pain. So priority number one is health! Today, this health is not so easy to maintain as the basic conditions are difficult:
the soil where our food grows is often exhausted and has little nutrients. It is often contaminated with toxins, acidic and its subsoil water is decreasing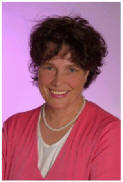 and these are just a few examples of the soil problems. As a consequence, the abused soil cannot give the plants and our food as many nutrients and as much life force as our body needs to stay healthy .-
The waters are contaminated with toxic substances, but what we need is good water to drink. How else could our bodies function properly? –
Similarly, the air is extremely dirty and loaded with toxic substance, and yet we need to breathe air for survival! All these factors are a major burden to our body, to our health.

But that's not all: the above mentioned problems are quite well-known, but another important change is far less known: The basis of life on our planet is changing! The fundamental frequency of the entire planet, our earth with all its life was until recently on the frequency of 7.8 Hertz. This is called the Schumann frequency. It is generated through the position of the axis of rotation of the earth and the axis of the earth's magnetic poles. Our body is a well tuned instrument and resonates with that vibration. Our brain waves and our nerves are in direct resonance with this fundamental frequency of life, that is what we think, what we feel, how we experience the world around us, whether we are happy or despaired.
And now the fundamental frequency of the planet and all of its life begins to change! The axis of the earth's magnetic field is shifting away from the Earth's rotation axis! And with this shift of the magnetic poles of the earth in relation to the solar winds this fundamental frequency of all life is increased to 10 Hertz instead of 7.8! And it is expected that this change can increase up to a frequency of 13 Hertz! And not in some distant future but now!
That means that the conditions for our bodies are changing significantly. Every day we experience that many people are restless, dissatisfied, unhappy, feel under pressure, search for solutions to problems, are desperate, etc.. Yes, it was said that there will come a time when even dogs will run in circles and will no longer know where to go. All life is affected by this change: stranded whales have lost orientation; birds fly to areas where they have not been before, because they can´t find their way; aircraft crash, because the instruments of the electrical board respond incorrectly; entire electricity generators collapse and leave thousands of people without electricity, etc. The entire electro-magnetic field is changing with all its implications. And this is not just affecting the environment but also the people in their health.

It is possible – even without knowing any reason – to experience this directly, for example in the pharmacy: people buy more than ever sedatives, starting from a soft valerian to heavy tranquilizers, sleeping pills, painkillers. Also, one can experience an increase in numbing situations: many people need more hours of television, more games, more alcohol and more drugs of any kind. Many people today are getting crazy and no longer know how to help themselves. And every single situation is a life, a person who falls into chaos and is suffering and many with him/her. They are not just statistic figures. How can we get out of this hell and again experience a lovable day?
The only thing I know, that can bring us really fully back into balance, is to regularly perform Agnihotra at sunrise and sunset. It works with the many kinds of electricity, magnetism and ether and builds up strength through balance and healing, and that every day! This unique special harmonizing force of the Agnihotra fire reflects in all kinds of electricity, magnetism and electromagnetic ranges of our body and it suddenly experiences again a correct control and balance! And this happens so easily, simple and cheaply that we can bring back into balance and healing in every home, office, farm, etc. And just as comprehensive as we experience these planetary changes and difficulties in adaptation, we can as comprehensively experience the balance with Agnihotra and Homa therapy all over again!
Here comes my tip: if you want to experience a day full of peace and joy, then help yourself: Simply do Agnihotra at sunrise and sunset. Take your own Agnihotra ash internally as a vital Supplement (Agnihotra ash has demonstrated to have over 90 nutrients!). Take it externally for bathing, apply it to wounds and skin problems, etc. Take advantage of the healing power of Agnihotra ash not only for yourself but also for animals, plants, to heal the soil, water, rocks and mountains, etc.
Would you like that you and your family are better off? Homa Therapy offers many more ways you can support yourself and your family, just ask! However, all this does not help if you only know it. It will help only if you perform it!