EDITOR'S NOTE
_________________
HOMA HEALINGS
_________________
HOMA FARMING
_________________
ECO NEWS
__________________
EVENTS
__________________
FUTURE EVENT in the
NATIONAL UNIV. of PIURA, PERU
__________________
HOMA HEALTH WITH PHARMACIST MONICA KOCH
_________________
MESSAGES FROM SHREE VASANT
_________________
FROM ORION TRANSMISSIONS
_________________



COMMUNICATION
Is it a science or an art?
One of the biggest causes of interpersonal problems is due to difficulties and/or lack of communication. Despite the existence of Internet, satellites, home and mobile telephones, radio, television, newspapers, magazines, etc, there are still problems with communication or "misunderstandings."
Sometimes 'A' says "ma" and 'B' hears "me". 'C' hears "mi ". 'D' understands 'mo". 'E' hears "mu" or "pu". 'F' does not hear anything. Only 'X' hears "ma." Why is this happening?
Some reasons could be:
a) We don't listen carefully
b) We don't use the language properly
c) There are physical problems with hearing and/or vocalization
d) There are visual problems
e) There are cognitive problems
f) There are cultural differences
g) We express ourselves with some ambiguity.Remember that there is also a non-verbal language.
h) We think "x", we feel "y", we do "z" and we say "w".
i) others
There are people who hear what they want or what they can because of:
1) Programming
2) Prejudice
3) Convenience
4) Time factor
5) Infatuation, etc.
Sometimes, when we are "infected" by "pride" we refuse to listen to other ideas. When in a group, the proud person loves listening to himself. And "anger" is an infection that disturbs the senses (hearing, sight, etc.).
On the other hand, there are people who feel "attacked", and "abused" all the time by others, even when they are praised. Is this due to past experiences? There are people that are constantly on a "defensive mode" and others are constantly on an "attack mode".
There are people who love to talk a lot and sometimes give unnecessary information. And there are people who do not have "Patience" (the Science of Peace). There are people who want to know every detail. There are people who use a few words only.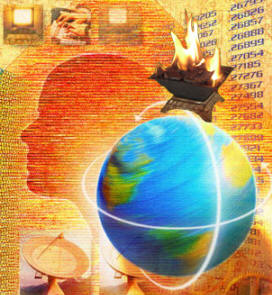 Can we talk?
There are people who see everything through dark glasses and for them life is dark. Others see the world with pink glasses and everything is fine for them. Some enjoy the thrill (metal music, violence, spices, dramas, etc.), others enjoy the gentle (classical music, perfumes, soft colors, poetry, romance, etc.). How is the conversation between high self-esteem and low self-esteem people? Is communication easier among people who have similar backgrounds? How to communicate with other people who are very different from us? Suggestions:
1) Put yourself in the others' shoes
2) Reprogram your mind including your verbal and nonverbal language
3) The artist and/or the scientist are aware of the details beyond the neophyte
4) Recognize that we are all created in the image and likeness of God. This Divinity is hidden behind the shell (body) and veil (mental and emotional). If we see the core (the heart), we can perceive the Essence.
5) If we perceive our Essence, it is easier to see it around us.
If A = X and B = X and C = X, then A = B = C = X (X = Divine factor)
6) There are many languages and sometimes a word has different meanings in different countries with the same language. The music has a broader scope of communication because it is accompanied by notes that resonate with the subtle bodies.
7) The effects of Mantras do not depend on the intellect. Mantra is a mind bypass.
8) The mind, heart and body communicate. Agnihotra improves the communication between them.
Agnihotra helps us to speak and listen with the language of love (heart to heart). Agnihotra helps us to see beyond the shadows.
OM Agnihotra OM
OM Shree OM
Why is Agnihotra part of the Science of Interplanetary Communication?