EDITOR'S NOTE
_________________
HOMA HEALINGS
_________________
HOMA GARDEN
_________________
ECO NEWS
_________________
GLOBAL MEGA HOMA
SUNDAY, 13th March
__________________
EVENTS
__________________
FUTURE EVENT in the
NATIONAL UNIV. of PIURA, PERU
__________________
HOMA HEALTH WITH PHARMACIST MONICA KOCH
_________________
MESSAGES FROM SHREE VASANT
_________________
FROM ORION TRANSMISSIONS
_________________



Mind & Mantra
Today, our self-study brings some perspectives about mind and Mantra. For many, mind is the tool for thinking, recalling, visualizing, etc. Some see it as a computer processing unit (CPU) For some, it is much, much more than a CPU. It can:
a) project and receive thoughts
b) materialize the objects and circumstances around us. c) others Maybe you already heard the expressions: "As you think, so you become." "You are where ever your mind (attention) is." Your mind shapes your personal (small) world and along with everyone else's mind you contribute to the shaping of the whole world.
For some the emotions, the intellect, the reasoning, etc. are linked to the mind. This is made of subtle matter, which is susceptible to many factors that can be called "vibrations." They are everywhere. Everything vibrates. The atoms, molecules, cells, plants, animals, men/woman, planets, stars, etc. vibrate. Wherever there are vibrations, there are frequencies, cycles and sounds. Vibrations can produce music or noise, harmony or disharmony. And yes, yes, yes, every person (per – sound) plays an instrument (body/mind unit) in this Concert. What are the Mantras? The Mantras are vibrations which can help:
a) to get in tune with the Master of the Universal Symphony
b) to clear the mind from the noise producing impurities
c) to play our unique role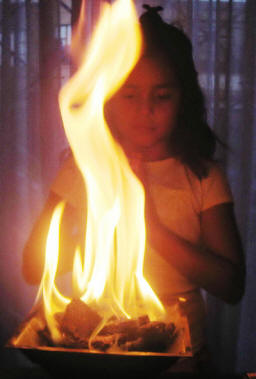 Agnihotra can help to purify our mind
As well as a seed grows in the dark soil to germinate and come out into the light to give it's fruits and more seeds, for many, the Mantra can grow in the silence of meditation behind the darkness of the closed eyes and take us into the Light with beautiful thoughts and actions (kindness, compassion, love, etc.). So, what does Homa Therapy has to do with all of these? Well, the correct practice of Agnihotra combines Fire and Mantra (light and sound) to help you to reset:
a) your mind into purity by removing the viruses, worms, spywares, malwares, and troyans in the mental CPU.
b) The energy cycle of the planet by detoxing all the eco-systems.
This simple Agnihotra can be performed by anyone and it is not linked to a believe system. Agnihotra is a Universal Key to open the gates in our heart to Love and the gates in our mind to Wisdom. By the way, "OM SHREE " is also a very powerful Mantra suitable for all.
OM SHREE OM