EDITOR'S NOTE
_________________
HOMA HEALINGS
_________________
AGRICULTURE
_________________
ECO NEWS
_________________
EVENTS
_________________
HOMA HEALTH WITH PHARMACIST MONICA KOCH
_________________
MESSAGES FROM SHREE VASANT
_________________
FROM ORION TRANSMISSIONS
_________________



TOTAL NUTRITION and AGNIHOTRA (Part 2)
There is a Physical Law that says "Matter cannot be created nor destroyed; it can only be transformed". Some people say "mind is creative". Then, we can ask: is it? Maybe, the mind is like the soil in which seeds can be sown and cared for in order to harvest the corresponding plants and fruits.
So this could be a Scientific Mental Process and it is not necessarily "Magic".
In the previous Homa Newsletter, we tried to figure out which is the best food according to our physical nature. We did some comparative anatomy and we can easily understand how tangible foods (bread, rice, lentils, vegetables, fruits, ghee, etc.) can produce tangible and subtle results in the body/mind unit.
If we do some deeper Self-study, we can also acknowledge that the subtle food ("emotions and thoughts") can produce subtle and tangible results in the same body/mind unit. If this is so, what would be the best subtle food (emotions and thoughts) to plant within?
We can do some "conscious" experiment by choosing to plant
a) love, forgiveness, kindness, compassion, joy, gratefulness, brother/sisterhood, common sense, understanding, etc.
b) anger, resentment, jealousy, rough judgment, envy, selfishness, quarrel, etc.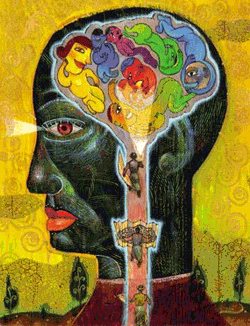 Agnihotra can burn the negative seeds
However, you probably already know what you can harvest with a) and b). Unfortunately, our lack of attention, sometimes allows many b) seeds into our soil and then we wonder why we get b) fruits. Can we plant lemon seeds and get apples?
Please, realize that these subtle seeds may take a short or a long time to give fruits (except the burned seeds).
Plants and animals cannot be very selective with their "food", but man can.
Are you as careful with your subtle food (emotions, thoughts, etc.) as you are with your tangible food?
Agnihotra can help to burn the negative seeds and to refine the senses and the mind of everyone in the Homa atmosphere. Agnihotra can help to bring the compassionate heart into the logical mind and vice versa. The better your nutrition, the better your sense of well-being and the well-being of the people around you, for "we are ONE".
So, let's not miss the chance to contribute to a better Total Nutrition with our Agnihotra fires.
OM AGNIHOTRA OM