EDITOR'S NOTE
_________________
HOMA HEALINGS
_________________
AGRICULTURE
_________________
ECO NEWS
_________________
EVENTS
_________________
UPCOMING EVENT
HOMA FESTIVAL 2009
_________________
HOMA HEALTH WITH PHARMACIST MONICA KOCH
_________________
MESSAGES FROM SHREE VASANT
_________________
FROM ORION TRANSMISSIONS
_________________



HAPPINESS (2)
Let's continue with our Self-study and recall that everything is "Vibration". This may consist of waves with: a rise, a low and a neutral sector.
Many times, these vibrations are expressed as "cycles". Everyone knows the cycles for: water, CO2, moon, menstruation, sun, etc. Thus, the physical, emotional and mental worlds also seem full of cycles. There are regular and irregular cycles. We see some regularity in the respiration, circulation, digestion, sleep, wakefulness, and so on. However, when we look at emotional and mental processes, we noticed a lot of irregularities and these tend to worsen nowadays.
Is it because there are many external and internal factors that can easily affect us?
For some, this emotional/ mental Curve is: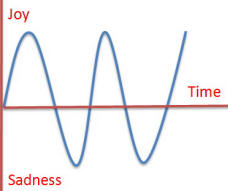 For many, it is a descendant one: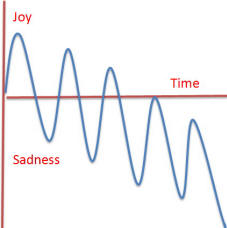 However, some Fivefold Path walkers often experience an Ascendant curve: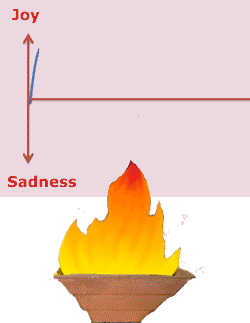 AGNIHOTRA, the Fire of JOY
Although, many cycles of Nature are regular and predictable, today, there are many mental / emotional irregular curves as human beings. We can look back in time and look at the present to see our curves. What curves have you generated?
Through the Agnihotra, we not only get in tune with the solar cycle, but also with the Divine Will.
The Agnihotra Mantra is equivalent to "Lord, let Thy will be done and not mine."
With a little effort, The walkers into the Light of the Fivefold Path can extend the state of " Equanimity" between:
- Success and failure
- Pleasure and pain
- Praise and insult
- etc.
Agnihotra is a simple bioenergetic process that can be easily practice to produce more Equanimity (Serenity), and thus, be able to enjoy the fruit of peace that everyone wants.
So, let's do Agnihotra to fill the New Year 2010 with Love, Light and Prosperity.
OM Love OM
OM Peace OM
OM Agnihotra OM