EDITOR'S NOTE
_________________
HOMA HEALINGS
_________________
HOMA FARMING
_________________
FARMING COURSE
IN TAPOVAN
_________________
ECO NEWS
_________________
EVENTS
_________________
MONIKA´S
HEALTH CORNER
_________________
MESSAGES FROM SHREE VASANT
_________________
FROM ORION TRANSMISSIONS
_________________



KARMA in the NEW AGE
Many are already familiar with the Physical Law of Action and Reaction: "for every force exerted in one direction, there is an equal force in opposite direction".
The parallel in metaphysical terms is the Law of Karma. That means that our emotions and thoughts (subtle actions) also provoke a reaction. This is related to the axiom "We reap as we sow". So if we plant an apple tree, we will collect apples after some time.
In the physical plane, we can speed up certain processes by the use of enzymes, catalysts, hormones, etc. If we plant compassion, kindness, tenderness, love, etc in our hearts and understanding, equanimity, wisdom, peace, etc in our minds, we will also collect the equivalent.

How do you do these easily ?
The answer is in the Fivefold Path.
Karma is action and this can be as concrete as lifting a box or as subtle as imagining a house. Either action will have an effect. So we cannot stop generating Karma. Most Karmas are binding, whether it is good or bad. Karma can place you into an iron prison or a golden one, but it is still a prison.
How to get out of this jail (trap, circle or never ending cycle)?
Some suggestions are:
* Do not involve yourself.
* Do not claim credit for your actions.
* Do not have expectations.
* See the Divine as the doer.
* Try to be an instrument of the Divine.
In the subtle plane, we can also accelerate some processes of Awakening, Unfolding and Self Realization through intense good actions (good Karma). Selfless acts of Service, Unconditional Love, Devotion and Surrender to the Divine are some of the accelerating factors. But how do you also do these ones easily nowadays ?
Fivefold Path is the answer.
Fortunately we are also experiencing a new trend of thought as we get into this New Age.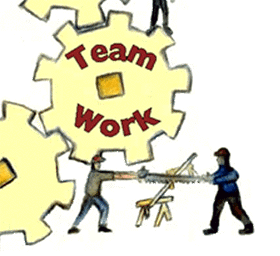 Team work makes it easier.
------------------------------------------
There is an increase in our understanding, communication, sense of brotherhood/ sisterhood, unity, collective awareness, etc. In this New Age, there is a wonderful opportunity to join and combine our talents to optimize the results for the benefit of all. We can enhance each other's gifts and talents and speed up our evolution through Team-Work.
We can see samples of team work in a: football team, surgical team, Chorus, symphony, singing group, ballet group, NASA, etc. Service by Team work means also Intense Good Karma. Remember the last time you tried to lift a heavy object or push a broken down car and your friends came to help? It is easier when we come together and support each other.
It is said that challenges can help you grow and strengthen your relationships when they are handled properly. The planet and all its inhabitants are facing many hardships which can be seen as challenges to overcome.
When you do Agnihotra you push all the ecosystems into balance. The more people do it, the greater the impact. The more people do it at one location, the faster the effects. Remember, the Fivefold Path is the easy way to happiness. And Agnihotra is the simplest bioenergetic technique which can be performed by anybody to help the planet to get back into harmony. So whenever it is possible, let us team up and Serve. Let us also get together at sunrise and sunset and do Agnihotra to increase the love around and within us. Let us work in and out. Let's remember that whatever we do it is important independent of how simple it might look, but it is even more important how we do it.
Are we expressing love in our actions? Are you experiencing joy?
Let the power of Love and Agnihotra Fire prevail through our actions.

OM PEACE, PEACE, PEACE
For more information please read Shree Vasant's book: "Light towards Divine Path"