EDITOR'S NOTE
_________________
HOMA HEALINGS
_________________
HOMA THERAPY - INTEGRAL PART OF SCHOOL EDUCATION
_________________
AGRICULTURE
_________________
ECO NEWS
_________________
EVENTS
_________________
MESSAGES FROM SHREE VASANT
_________________
FROM ORION TRANSMISSIONS
_________________



THE BEST INVESTMENT
'AGNIHOTRA'
Today, we are watching an economic global crisis and most people wonder about their personal financial future. When it comes to usage of money, maybe people can be grouped as:
1) basic workers: to fulfill basic needs
2) common workers: to fulfill their vanity
3) extra ordinary workers: to help others
4) keepers: hold on to the money
5) investors: to increase the gains
In which group are you?
What do you do with your money?
a) keep it
b) share it
c) buy
d) invest
Any laymen know that the economy is good when the money flows everywhere. If it is stuck somewhere or misused, the economy eventually collapses.
So, the next question is: once your basic needs are taken care of, what to you do with the rest of your $$?
a) Save it in the bank
b) Buy more (clothes, jewelry, cars, houses, etc.)
c) Get more pleasure (liquor, cigars, foods, sweets, sex, travels, etc.)
d) Give it to charity
e) Give it to support Satguru's (saintly person) work
f) Invest in:
- Business such as: factories, real estate, entertainment, tourism, energy, food, drugs, weapons, war, etc.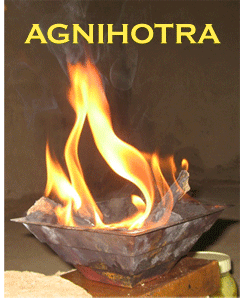 PRACTICE THE FIVEFOLD PATH - FOR CLARITY AND HAPPINESS
- Education
- Research
-Land with sustainable agriculture
- Water resources
Some of these might be very good. Is there any investment accessible to anyone? Agnihotra heals the atmosphere and our mind. Also, when we do Agnihotra (the basic Yajnya), we are investing with certainty. Agnihotra is a prescribed duty (Dharma) that leads to prosperity (Arhat). Logically, the good actions will lead to good results. Agnihotra can help anyone to become an extra ordinary worker and investor. Agnihotra is the basic process of the Fivefold Path. Practice the Fivefold Path (Yajnya, Daana, Tapa, Karma and Swadhyaya). This is the highway to peace, love, wisdom, joy and prosperity.
Remember, Agnihotra is the Greatest Investment for most people. Put it to the test and let the great law, the law of Grace, operate. OM OM OM.

Please see: "The Golden Messages of Shree Vasant" in
http://www.youtube.com/watch?v=4qxlj35Fruo