EDITOR'S NOTE
_________________
HOMA HEALINGS
_________________
AGRICULTURE
_________________
ECO NEWS
_________________
FUTURE EVENTS
_________________
EVENTS
_________________
MESSAGES FROM SHREE VASANT
_________________
FROM ORION TRANSMISSIONS
_________________



HOMA MEDICINE
We think about Medicine when we are facing a disease, pain or discomfort. Usually there are as many types of medicines as there are pathologies and sometimes there are several kinds of medicines for one problem. The effectivity of these medicines may vary depending on the individual's constitution and other factors. Nowadays, there are so many elements that can affect our health and toxins are among the most prevalent ones. These toxins lead to the most common chronic degenerative diseases. . Most naturopathic approaches to health start with "detox programs" for the removing of toxins out of our bodies. These toxins come from our foods and other sources. They tend to accumulate in many body parts at different levels. Usually, the colon (large intestine) cleansing is recommended at the beginning along with special diets to avoid more food toxins coming in. The Medical Doctors, nurses, therapists and health-practioners are dedicated to bring "relief" and help the patient to go back to health, go back to balance, go back to "ease".
Among the many approaches to help, Homa Therapy is one that is:
- easy to apply
- inexpensive
- holistic (body, mind, etc.)
- wholistic (atmosphere, waters, soils, plants, animals, man, etc.)
- complementary to any other medical approach
- preventive medicine and curative in many cases
- natural, scientific, bioenergetic and vibrational medicine

Can a fish be healthy living in polluted waters? Can man be healthy living in a polluted environment?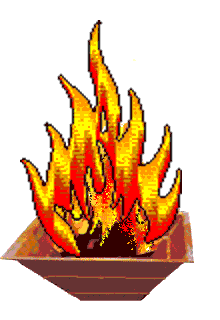 AGNIHOTRA IS MEDICINE
Nature and men are ONE. What affects one, can affect the other indirectly. These Homa healing fires treat man and Nature at the same time.
We all pollute, so we are part of the problem. But we can neutralize the pollution and also become part of the solution "easily" with the practice of Agnihotra.
So the question is:
Did you do your Agnihotra today?
It is important what we say, but it might be more important what we do.
Agnihotra gives the patient an opportunity to become an active agent on his/her own healing and the healing of mother Earth.
The Agnihotra atmosphere and the Agnihotra ash have a profound effect on the body/mind unit.
You might want to find out the meaning and meditate on the following verse:

"Om asato ma sad gamaya
Tamaso ma jyotir gamaya
Mrityor ma amritam gamaya
Om shantih shantih shantih"

Practice of Agnihotra = . spreading Love
Let's fill all the spheres with Agnihotra.
Let's fill all the spheres with Love.
OM. LOVE.